---
Toyota TrueStart Battery Features & Benefits Video
Toyota TrueStart or True-2 Battery. Which one is right for me?
TrueStart Battery Features
84-month warranty
Coast-to-coast warranty service at more than 1,200 locations
24-month emergency roadside assistance/towing and installation labor
Matrix radial grids for high-current starting demands
Quicker recharge capability due to the correct balance of Cold Cranking Amps and Reserve Capacity to provide power and cranking ability
Extended battery life due to a patented lead alloy feature that reduces corrosion
Improved heavy-duty lugs on the positive and negative plates to allow a greater flow of power
True-2 Battery Features
Competitive 60-month warranty
18-month free replacement coverage
42-month proration in a two-tiered price plan
Coast-to-coast warranty service at more than 1,200 locations
Built to top industry standards
High vibration resistance
State-of-the-art design that includes many of the TrueStart features
Great non-warranty replacement alternative
Maintenance-free under normal operating conditions
When do I replace my car battery?
If the answer to any of the questions below is YES, it may be time to replace the battery:
Is your battery more than three years old?
Has your battery outlived its warranty period?
Have any warning lights come on?
Has your vehicle been jump-started lately?
Have you had to use a portable charger to recharge your battery lately?
Do the lights dim when the A/C or heat is on?
Has your vehicle had alternator or belt problems recently?
Is there visible corrosion on the battery posts or cables?
If your vehicle is hard to start and/or has dim headlights when the engine is turned off, your battery is getting weak and should be replaced with a new TrueStart™ or True2™ battery. Manufactured to Toyota's exacting standards for quality and performance, these batteries offer the right combination of cold cranking amps (CCA) and reserve capacity (RC) for reliable performance regardless of climate.
Believe it or not, a higher CCA rating isn't necessarily a good thing, because it negatively affects RC, or the ability of your battery to hold a charge. TrueStart™ and True2™ batteries have been approved by Toyota engineers for years of trouble-free service-and no one knows your Toyota better than they do.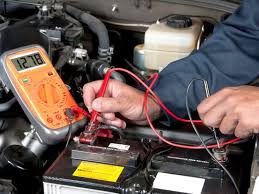 If you are looking for a Toyota, Scion car battery, Toyota of Santa Barbara has a complete line of Toyota, Scion batteries for almost every model at their Toyota dealership serving the Goleta, CA area. Our friendly Toyota and Scion parts and accessories personnel can help identify the best battery for your vehicle, and offer choices of OEM recommended auto batteries, as well as compatible replacements for most other Toyota, Scion batteries.
Call us and we can share auto battery prices with you and help find the best battery deals available for you, or visit our parts and accessories page to submit your online request.
Toyota of Santa Barbara offers affordable car battery prices for all types of vehicles. Whether you purchased your car with us or not, we would love to assist you in finding and replacing your Toyota, Scion battery. Schedule a service appointment to let Toyota of Santa Barbara install it for you. While you're here we can also handle proper car battery disposal for your old battery to make things as convenient as possible for you. Your disposed battery will be safely exchanged and sent to a recycling station as you purchase your new car battery.