Why Buy From Toyota of Santa Barbara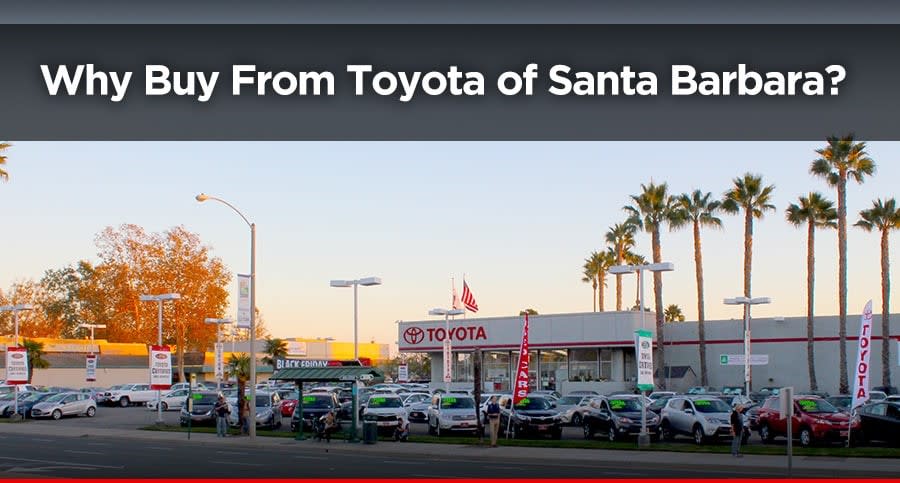 Why Buy From Toyota of Santa Barbara, CA
When you come to our Toyota dealership in Goleta, CA, you'll be greeted by a team of professionals that will work to help you throughout the entire car-buying process. Our sales team has more than money on their mind; Toyota of Santa Barbara has a non-commission sales approach, allowing our team to focus more on you and your needs instead of worrying about making a sale. Our expert Toyota finance, service and parts teams work together with one goal in mind as well -- providing you with an excellent experience!
Toyota of Santa Barbara makes the local community a top priority. We are dedicated to providing you with exemplary service, and hope that you'll come to us again and again for a new Toyota. Our kind sales team will help you find the vehicle you need, and then the incredibly knowledgeable Toyota finance team will help you decide whether to buy or lease your Toyota.
Leasing a new Toyota has never been easier thanks to our no-money-down lease offers. You can sign and drive a new Toyota today without needing to make a down payment or pay a security deposit. Many of our Toyota models are eligible for this sign and drive offer, including the new Toyota Yaris, Toyota Prius and Camry. After you've picked out the perfect vehicle we'll make sure it has a full tank of gas so your adventures can go uninterrupted after you sign the lease. Plus, you can save on routine maintenance throughout the life of your lease with us.
We offer plenty of coupons and offers on tires, wiper blades, brake pad repairs, oil changes and even more, so be sure to check out our specials online! We'll work with you to service your vehicle and make sure it's in top condition during every checkup. Whether you're interested in buying a new sedan like the Toyota Camry or Corolla, a hybrid like the Toyota Prius or an SUV like the Toyota RAV4 or Highlander, you'll find the perfect vehicle at our dealership in Goleta, CA. Be sure to stop by and experience for yourself why you should buy from Toyota of Santa Barbara!
Toyota Dominates The List Of Cars Americans Keep For 15 Years Or More
US-based classified site iSeeCars.com has published its popular "list of cars people are likely to keep for 15 years" in America for the year 2019, and as expected, the list is predominantly Toyota models.
iSeeCars did some analysis on over 750,000 cars from the 1981-2003 model years sold in 2018 in the US to determine which cars are most likely to be kept for at least 15 years.
Out of the top 15 cars in the list, 10 are Toyotas.
The list is as shown below: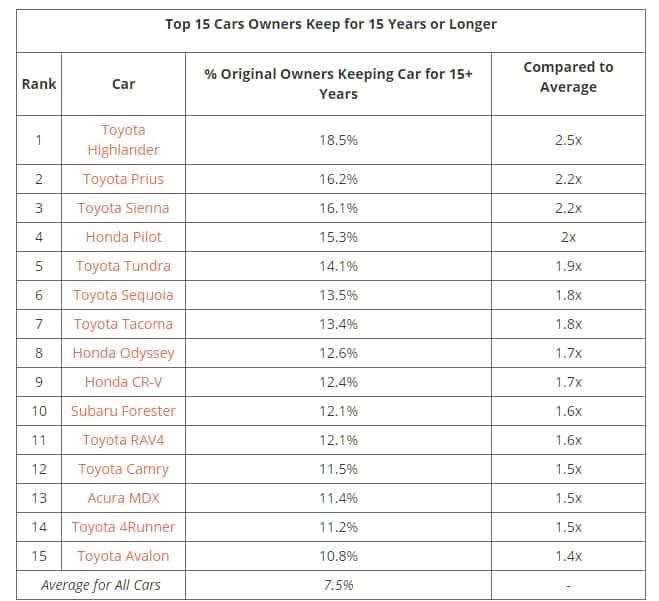 Earning the top spot is the Toyota Highlander midsize SUV, with 18.5 percent of original owners keeping the vehicle for 15 years or more, two and a half times the average for all vehicles. Three additional Toyota SUVs make the list including the sixth-ranked Sequoia, the eleventh-ranked RAV4, and the fourteenth-ranked 4Runner. "These Toyota SUVs all have above-average reliability ratings, which likely contributes to why their owners choose to hold onto them," said Ly.
The second-ranked Toyota Prius is the only hybrid on the list. "Because of the added upfront cost of hybrid vehicles, owners have the incentive to keep their cars for longer to accrue fuel savings to offset the initial expense," Ly noted. "The oldest hybrid vehicle to remain in continuous production, the Prius' appearance on the list helps dispel concerns about battery durability and shows that Toyota's quality and reliability standards extend beyond its conventional fuel vehicles."
Also making the list are two Toyota pickup trucks: the fifth-ranked Tundra and the seventh-ranked Tacoma. "The Tundra has frequently been named as the 'Most Dependable Large Pickup' according to JD Power, and the Tacoma has consistently been the best-selling midsize pickup truck," said Ly. "The fact that their owners don't want to give their trucks up speaks to the dependability of Toyota pickups."